Shopping Cart
Your Cart is Empty
There was an error with PayPal
Click here to try again
Thank you for your business!
You should be receiving an order confirmation from Paypal shortly.
Exit Shopping Cart
Fashion Journalist | Wardrobe Stylist | Creative Director
I have been exploring the wicked problem of textile disposal and recycling throughout the last few months. In this I have created a mini-documentary
'fashioncycling'
highlighting this issue specifically in the state of Maine and some of the solutions at a local level. 
Please visit the website www.fashioncycling.weebly.com for more sources on this subject. 
-SE- 
With another change in fashion seasons, comes the potential for, "Half a million tonnes of
microfibers
into the ocean every year, equivalent to more than 50 billion plastic bottles," according to
EcoWatch
. 
The latest fashions, "Leave a
devastating planetary impact
," EcoWatch reports. The purchase of this seasons must haves could affect the more than just your wallet. 
The fashion industry has tried to make strides in this impact in one way by producing sustainable clothing,
ecocult
, writes about, "THE 16 MOST AFFORDABLE PLACES TO BUY SUSTAINABLE, ECO-FRIENDLY, AND ETHICAL FASHION."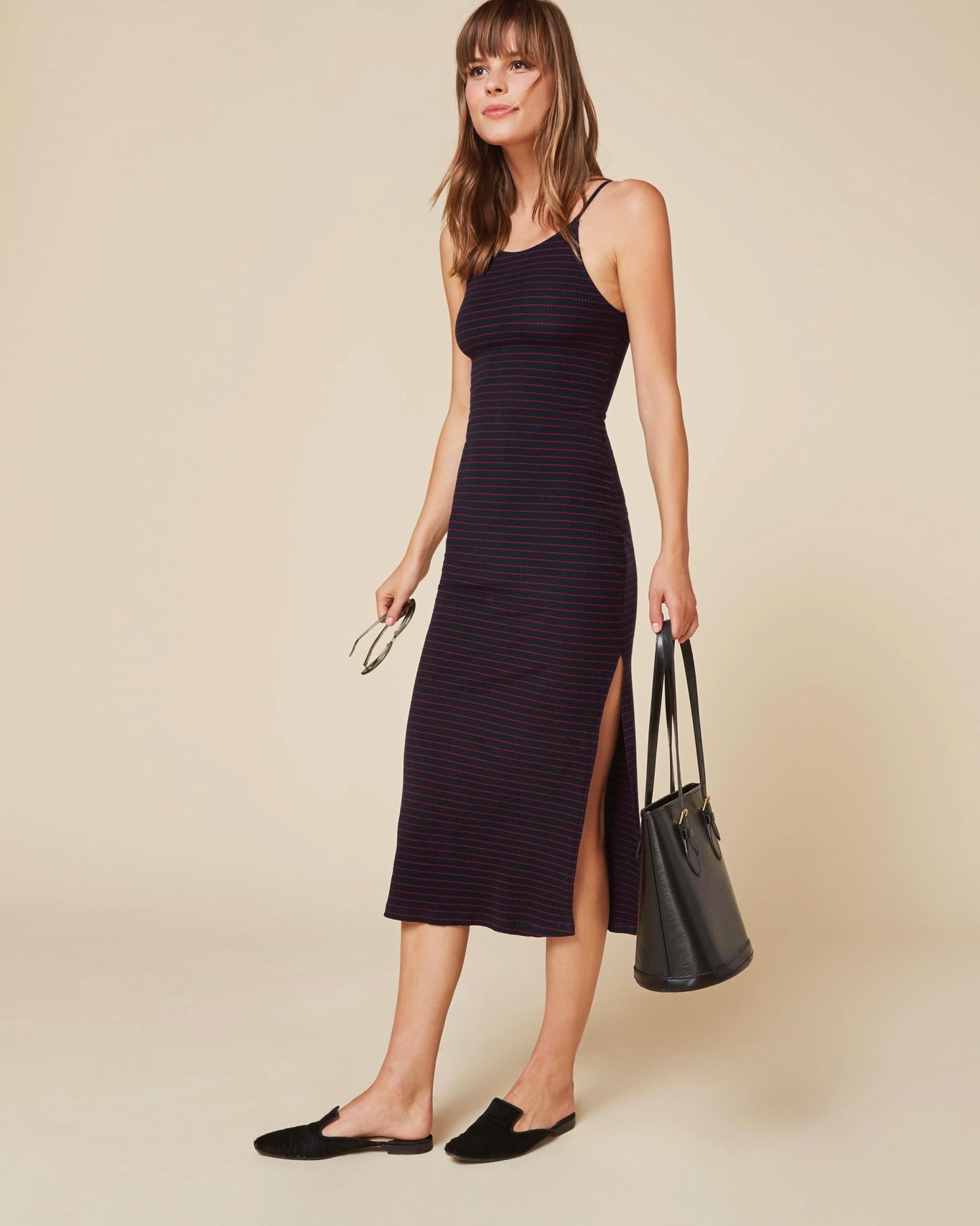 One of the most well known is
Reformation
, with their RefScale division the company tracks the environmental footprint generated in the manufacturing process. Other well known brands such as
Urban Renewal by Urban Outfitters
and
Green Room by ASOS
have eco-friendly divisions as well. 
When searching sustainable fashion,
google trends
show Dutch fashion as being at the top. I have attended the former Mercedes Benz New York Fashion week as well as Los Angeles Fashion week and strive to attend fashion weeks in Paris and London as well as Portugal, but never thought of
Dutch Sustainable Fashion Week
until now.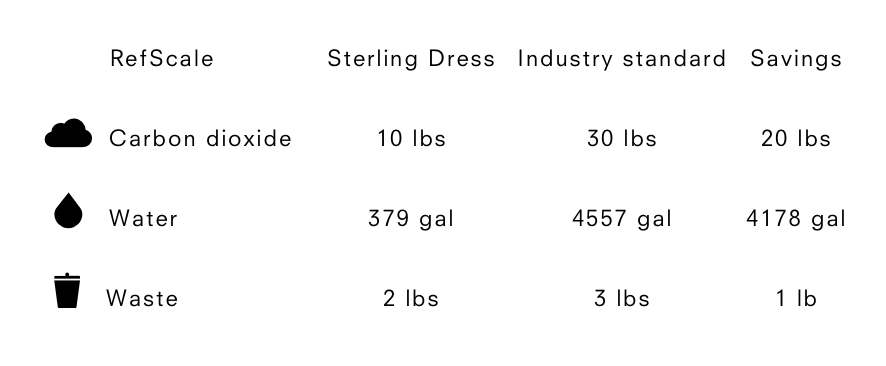 We are all living in a globalized world which has its perks and benefits, but we also need to recognize what this world wide approach to manufacturing and transport does to the environment even if it is just the shirt on our backs that are contributing to our carbon footprint. 
-SE-
Most people nowadays know how to navigate themselves to the correct recycling bin when finished with their beverage or snack from the vending machine. But what about when purchasing a tee shirt, socks or even flip flops, from such a  machine, where are the
apparel recycling bins
in the line up?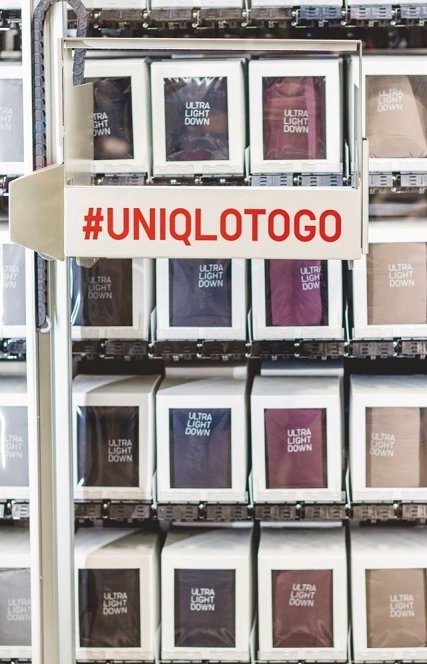 The latest trend in fast fashion, a term coined because of the high volume of low prices clothing that comes in and out of store, in what seems like a blink of an eye, is the apparel vending machines.  
Who What Wear
, highlights some of the pioneers of this new way of selling with companies such as Uniqlo and Havanans cashing in on this trend. Followed by the extra money pocketed by,  "Cutting the middle man may be a savvy route to cost-cutting," describes the
Independent
. 
Hopefully the consumers are also recycling these items instead of contributing to the
81 pounds
of clothing many people in the United States throw away ever year. There are
recycling bins
for every product you can pretty much think up, sometimes all lined up together like little soldiers. But there has yet to be an apparel one amongst the rest. Those bins are usually outside second hand stores and scattered around random street corners. Why are they left alone all by themselves instead of being among the gang of recycle bins for glass, paper, plastic? 
-SE-
Originally posted October 30, 2017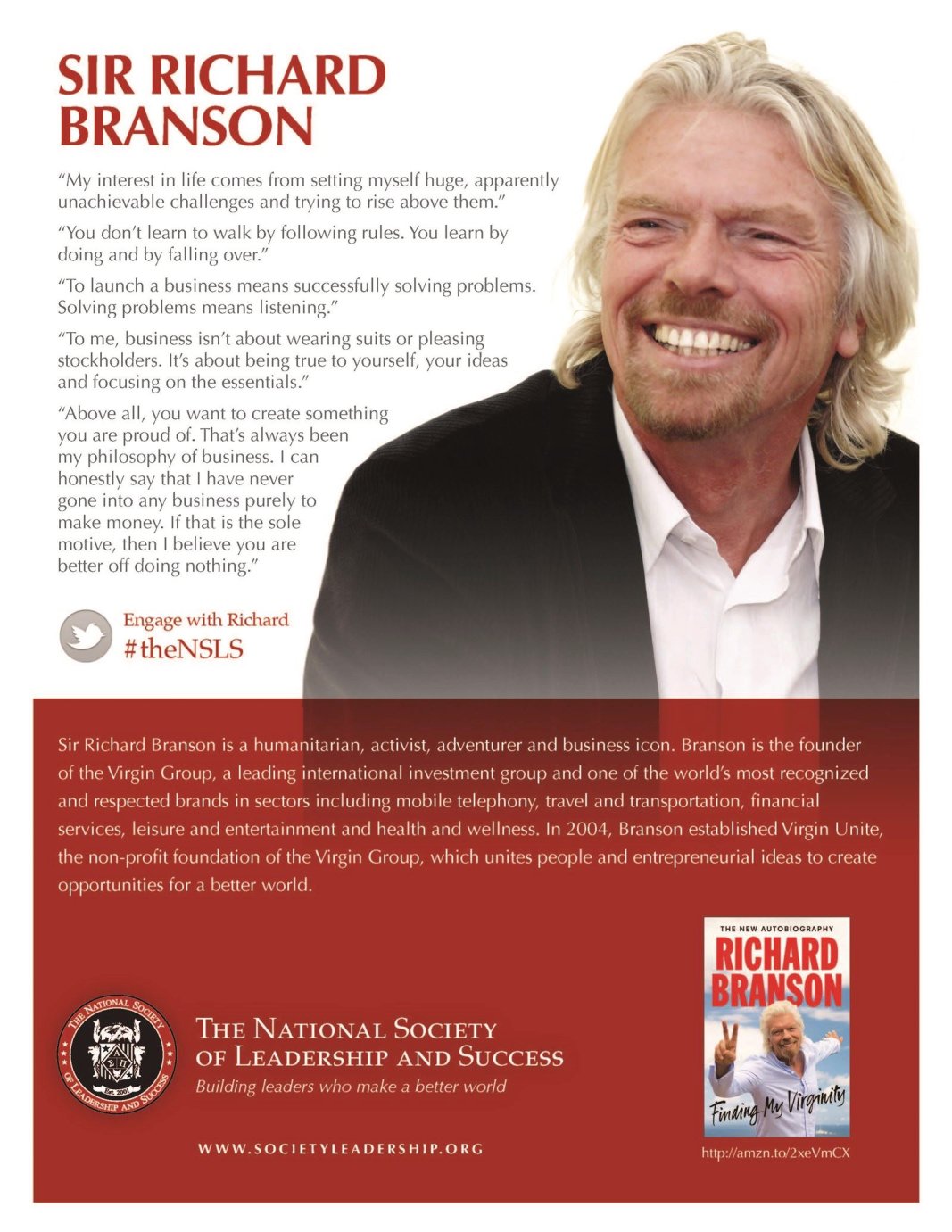 The NSLS established it's chapter at the University of Maine this Fall 2017 semester. This honor society is the largest in the United States and prides itself on "Building Leaders Who Make a Better World," 
Branson, is the owner of 
Virgin Group
, a leading international investment group and one of the world's most recognized and respected brands which was conceived in 1970.
In the
 speaker broadcast
 Branson, talks about being, "Someone that creates something that makes something positive for someone's lives."  As a successful entrepreneur he has now been able to tackle problems of the world and give back to society. 
Some of his inspirational quotes from the speaker broadcast were: 
-"Achieve something that has never been achieved before"
-"Just get on and do it"
-"Start in a small way and get some traction" when having a idea that had not been done before. 
-"Keep the top company owned by you and your family" 
-"Making positive difference in people's lifes"  
-"Market your product if you have something interesting to talk about. Try to get in the paper, get the word out for free rather then paying for advertising."
-And that he, "Learned tons from starting something outside of the walls of the academic society."
-"Just do it, if you have a goal in life, just go for it."  "Bolder and braver and not take no for an answer" 
-"Find the gap in the market and something that frustrates you and do it yourself."
-And the one that stuck out the most to me, "Make a difference in the world," Sir Richard Branson 
No matter where you are in life, if you have money or not, there is alway something big or small that one can do to make the world a better place. 
-SE-
Originally posted October 22, 2017
First sight makes a lasting impression. Nonverbal communication makes up 
93% 
of everyday communication, according to Albert Mehrabian. How people size up one another when first meeting, what one chooses as their outfit for the day tells the world who they are. According to the 
Changing Minds organization
, "A simple rule is 'Dress to impress', which means what you should wear can vary greatly with your audience." 
Just think about it like walking around looking at yourself in the mirror all day. The mirror image is what the world sees of you and unfortunately human nature does judge a book by its cover. If this is the way of the world why not step out into it with your best [foot] outfit to show they world who you are? Take pride in your uniqueness and let you're clothing be your calling card to the world of how you want people to see you.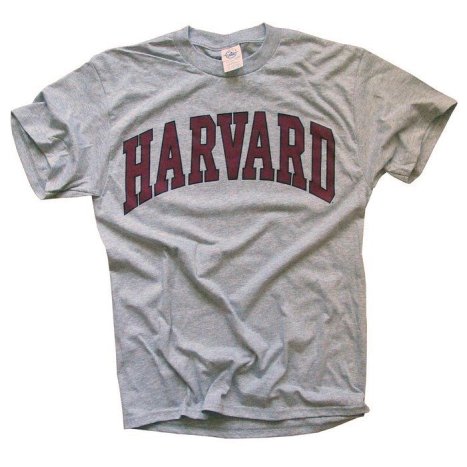 The tee shirts people wear and what is printed on them tell a story about just like a billboard does. In a 
Complex Magazine
 article, Jon Moy breaks down tee shirts into 26 different categories. Moy describes category, "#20 athletictecht -  Personally, I don't know you if you wear super technical T-shirts like this. Under Armour? What the fuck?" As well as category,  "#21 colleget You are a character in a romantic comedy who has reluctantly returned to their home town after years of living in New York City," which I can truly relate to at this point in my life. 
Preserve History on a students tee shirt this morning tells me that he is interested in history from not even speaking to him. The fraternity someone's in the band that they like, where they've traveled and what their favorite sports team is. All of these tee shirt billboards tell a story about a person without even knowing them, so make sure you choose the correct one. 
-SE-
Originally posted October 10, 2017
Any form of media in today's digital world relies on the latest in technology. Does digital take away from the soul of this consumption? 
Take for example, listening to music on a record versus your iPhone. For me even if it is a contemporary album like Bruno Mars, I feel nostalgic by listening to the lyrics on vinyl vs digital formatted and somewhat more connected to the "feeling" of the music.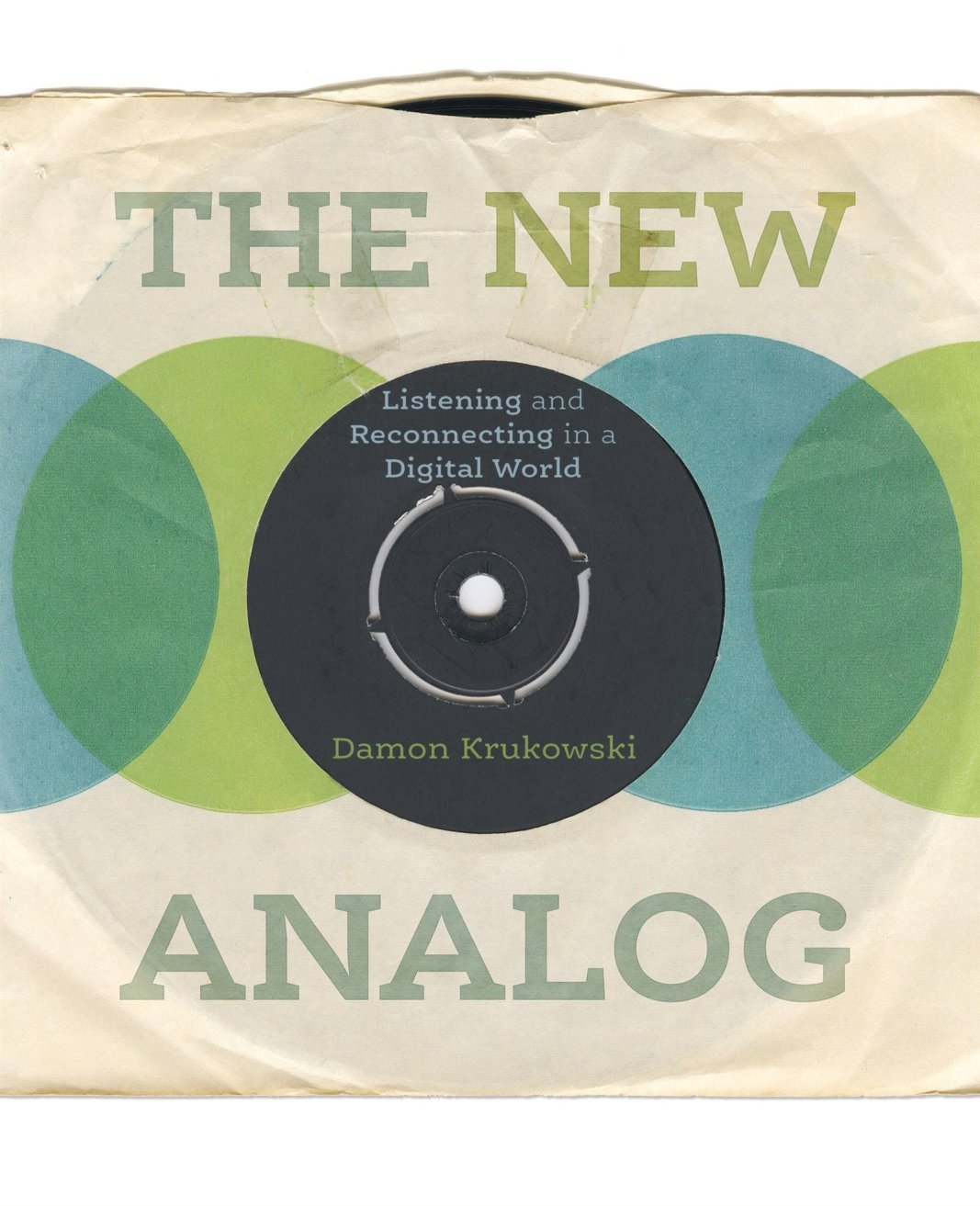 Listening and reconnecting in the digital world."
In a 
New Yorker
 article Krukowski describes, "The analog world of the sixties and early seventies, were this hypervisual culture." At a lecture to UMaine journalism students, he describes today's world as a "hyperoral culture." The New Yorker article goes on Krukowski used concepts from "
Ways of Seeing
" a tv series on BBC in the seventies for his 
"Ways of Hearing
" podcasts on Radiotopia. 
What does this mean for visual mediums such as fashion, photography and even art? Fashion institutions such as Vogue have embraced this form of media and the article from 
BIGIDAY 
entitled, "Inside Vogue's New York Fashion Week digital wrap party," described the shift in content from print to digital. 
This content was accomplished by, "the editorial team designing the feature as digital-first, trading all still photos for full-screen looping video clips. As a result, the videos gave readers a peek into the photoshoot party, demonstrated how the designer clothing moves, and packed a range of poses and facial expressions into one overarching shot," showing that analog can coexist in a digital world. 
-SE-
Originally posted October 3, 2017
It's hard enough landing a good paying job in journalism, but rural parts of America like Maine could prove to be even more difficult.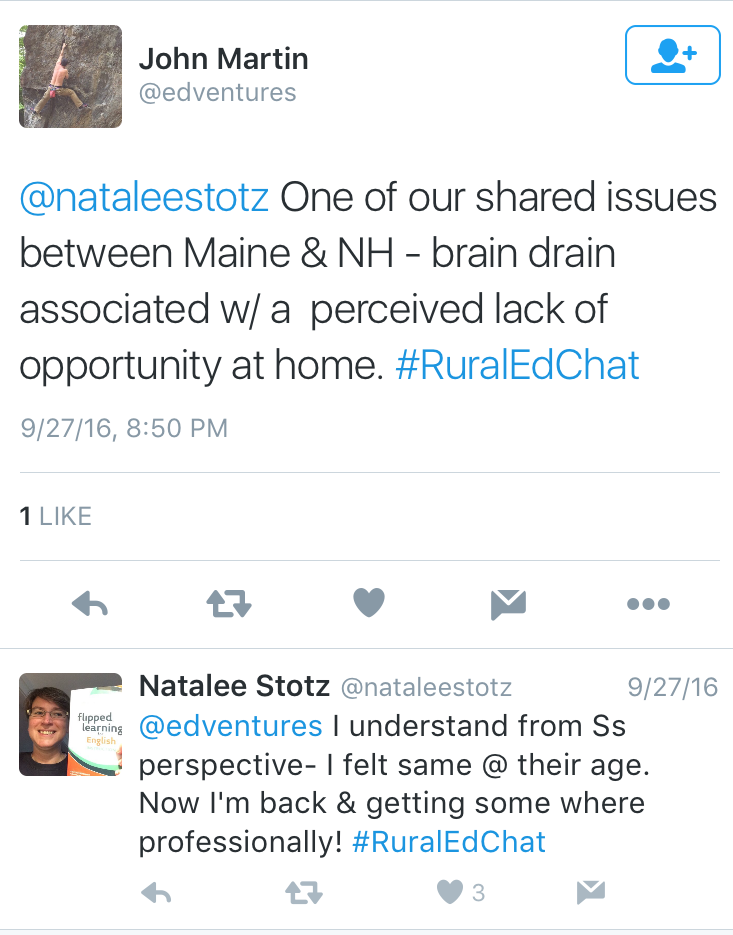 The "brain drain" phenomena could be part of the problem of retaining younger educated talent pools. John Martin tweets, "One of our shared issues between Maine & NH - brain associated w/a perceived lack of opportunity at home."  Natalee E. Stotz commented on Twitter, "I felt the same @ their age. Now I'm back & getting some where professionally!" This is encouraging news for the Humanities and Religion teacher sector that Stotz states is her career on twitter.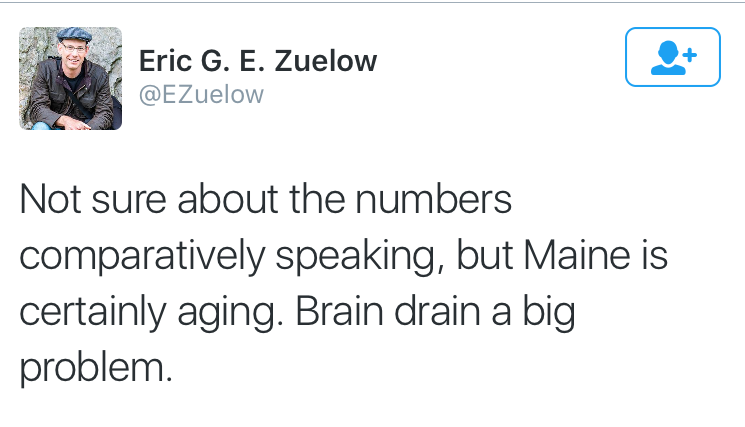 Eric G. E. Zuelow tweets, "Not sure about the numbers comparatively speaking, but  Maine is certainly aging. Brain drain a big problem." 
So what is "brain drain," by definition according to Merriam-Webster is, "the departure of educated or professional people from one country, economic sector, or field for another usually better pay or living conditions."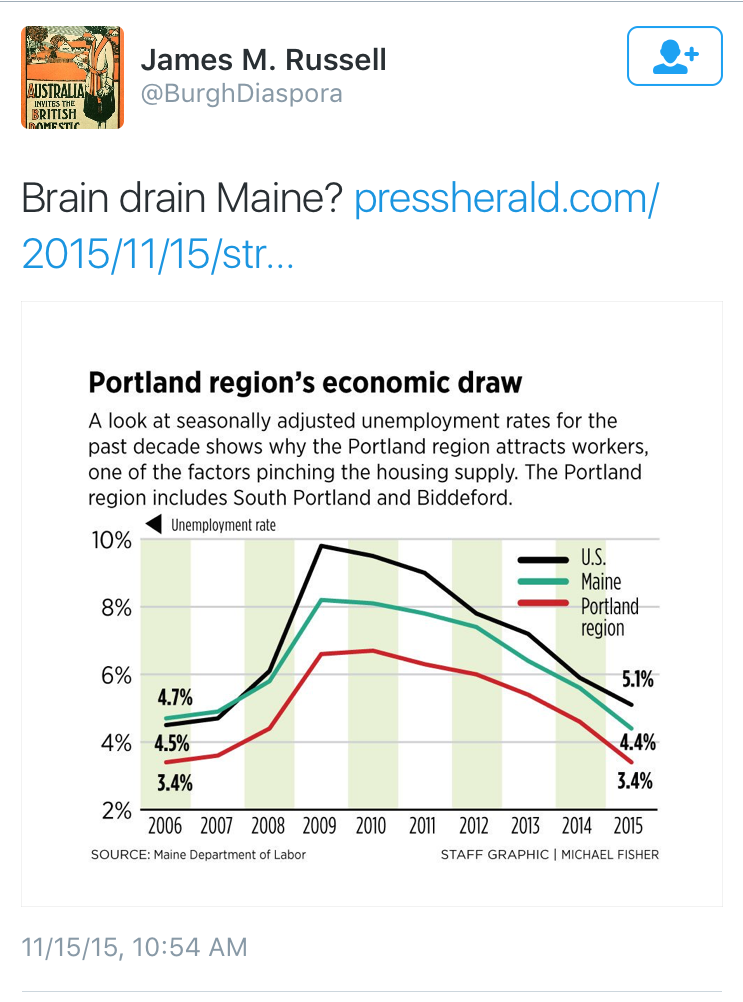 Portland seems to have the most quantity of journalism jobs in the state according to 
goggle 
search. But do the salaries compare to the cost of living? James Russell tweets of an infographic shows that seasonal employees in the Portland, Maine region is one factor in the pinching of housing supply.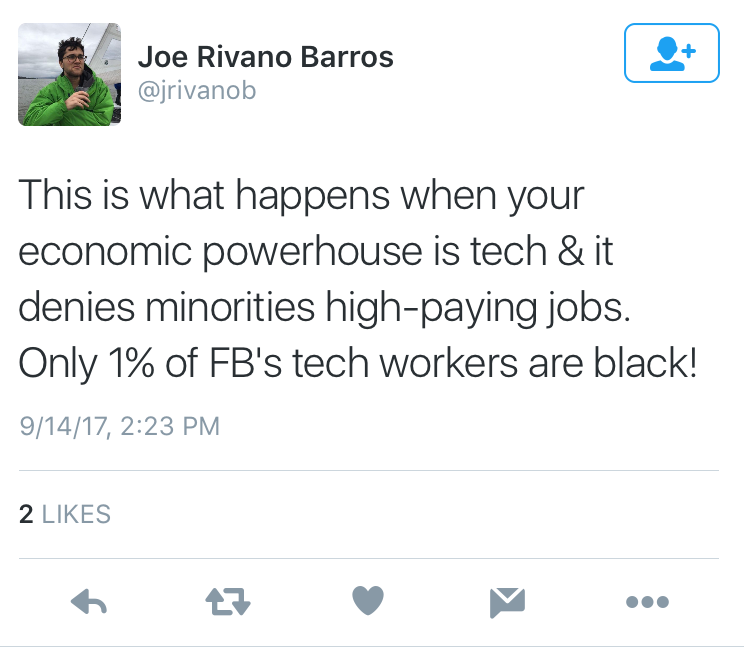 Why does Maine have a hard time retaining college educated younger work force has been posted in the news lately?  One reason could be the lack of diversified jobs and second the pay scale is low compared to the cost of living. Joes Rivano Barros tweets, "This is what happens when your  economic  powerhouse is tech & it denies minorities high-paying jobs." Adam Côte who is running for governor of Maine tweets, "For better educational opportunities to more high paying jobs, we can make every corner of Maine Better."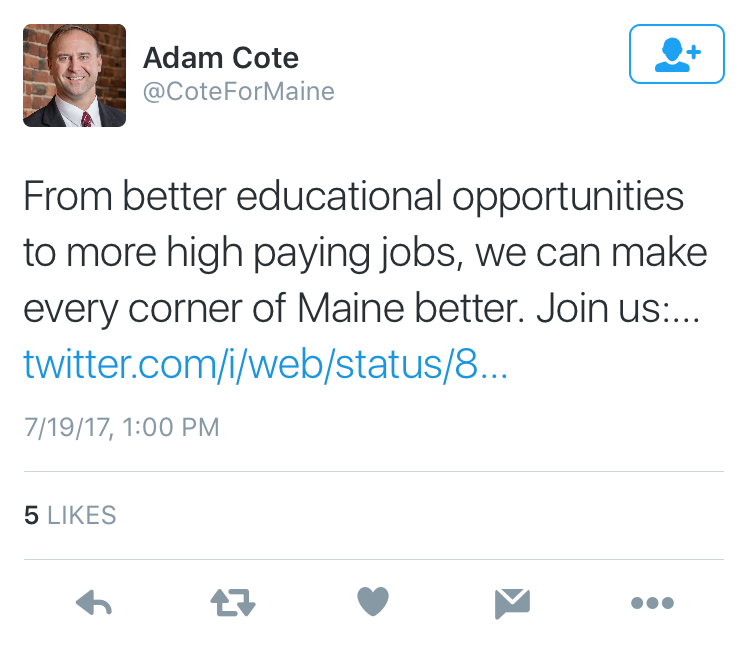 From a recent job search in 
Maine for graphic design
 positions, one that stated the pay rate was around $31,000-$35,000 with a bachelor's degree and min of 3 years work experience. According to Indeed UMaine,  this salary equates to roughly $15-$17 dollars per hour. This is not even enough to afford a 2 bedroom apartment in Maine according to a 
Washington Post
 article. Not to mention having to pay off your college debt in the process of keeping a roof over your head.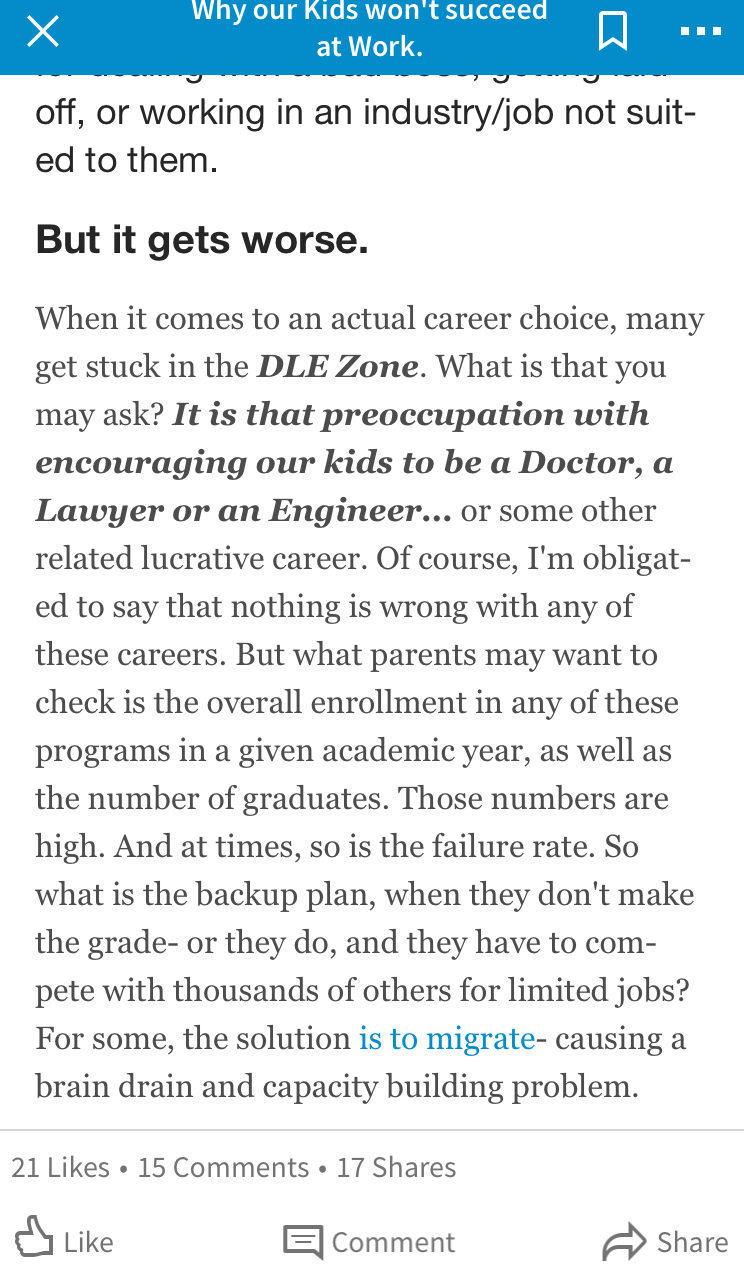 In an article posted on LinkedIn by Jeremy Francis, entitled "
Why our kids won't succeed at Work
," states with college students being advised to go into careers in the DLE (Doctor, Lawyer and Engineering) Zone, "They have to compete with thousands of others for limited jobs, causing a brain drain and capacity building problem." "The solution is to migrate."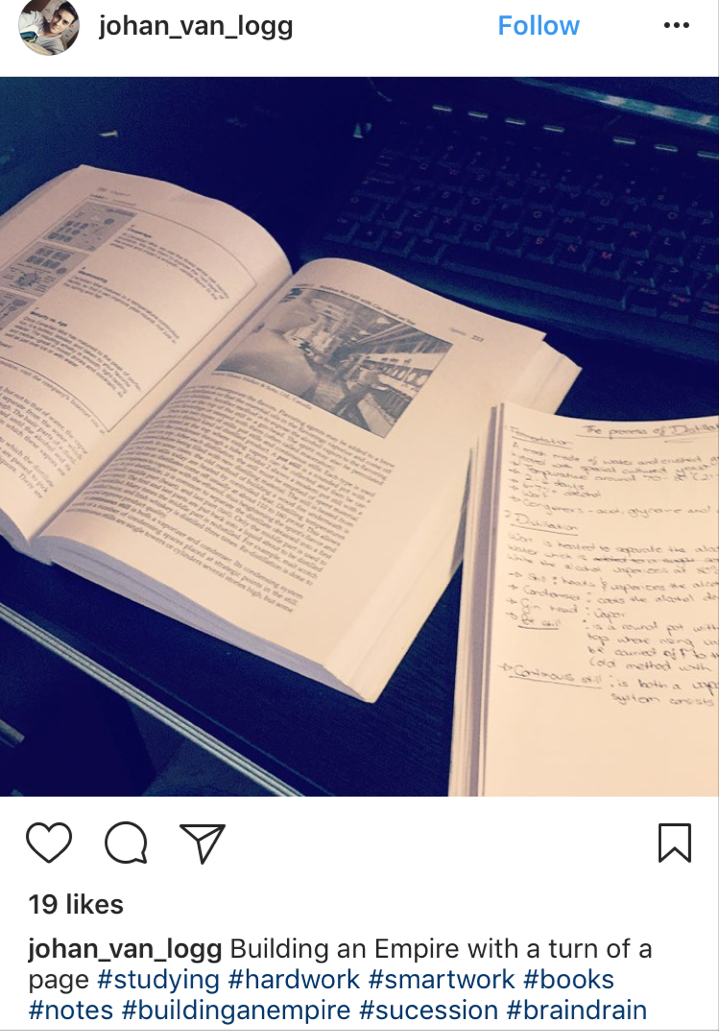 Instagram user Johan Van Logg posts a picture captioned, "Building an Empire with a turn of a  page #brain drain."
-SE-
Originally posted September 25, 2017
With the weather changing soon, a small set of UMaine students were asked what they did with their unwanted clothing. Almost all said they donated them to one charity or another. During a Mitchell Lecture on sustainability, Dr. Dietz, a professor of Sociology and Environmental Science and Policy from Michigan State University said, "We are reluctant to discuss value difference." The students surveyed, answered with what they thought the politically correct answer should be. 
But upon more discussion on the issue, a few admitted they through away soiled or torn clothing. When asked why, they said because they were not good enough to donate, not knowing that they could recycle these textiles, much like plastic, paper and other materials. 
As mentioned in "The waste of changing seasons," blog post, one solution on the UMaine campus is the 
Black Bear Exchange
 where you can exchange your clothing for some new wares of pick up some needed food.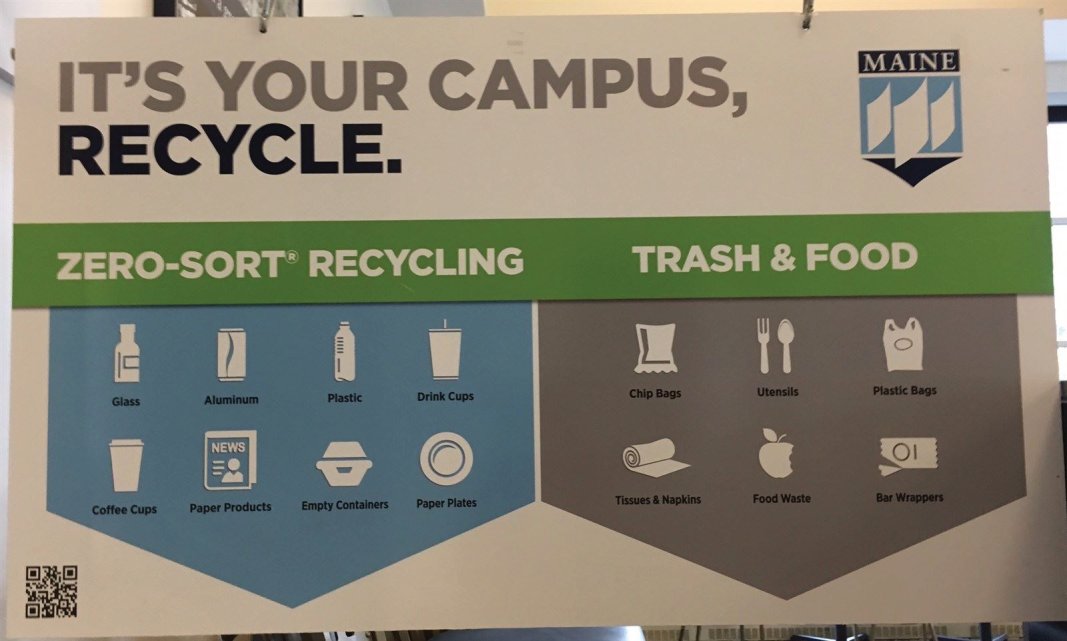 UMaine also has recycle bins around campus called zero-sort, unfortunately one of the only things not excepted are textiles. The Director of 
Sustainability at University of Maine
, Dan Dixon said that,  "The contractor [Casella] does not allow textiles," but that he would be interested in looking into the process involved in recycling textiles.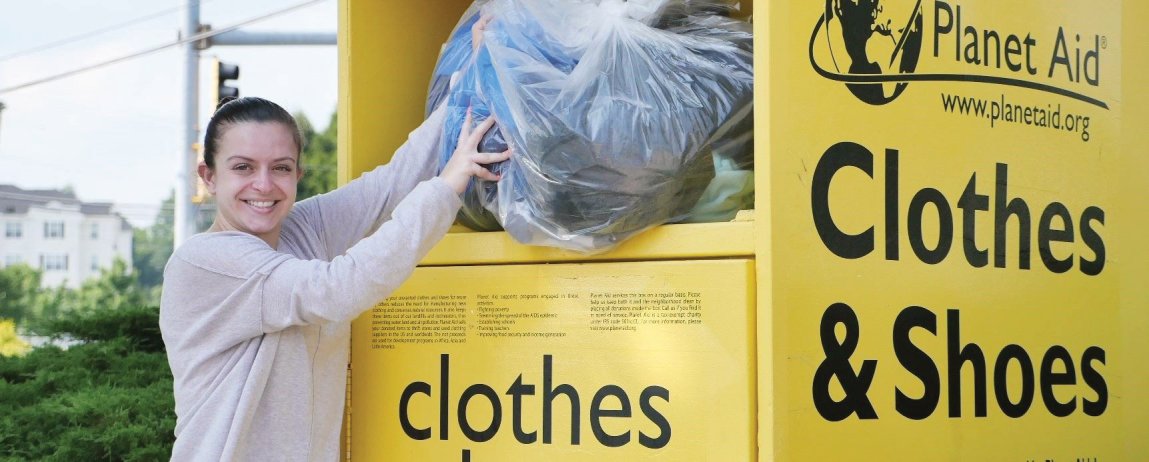 Dixon went on to say, that Bangor and Orono used to have "Big Yellow Bins,"  possibly from Planet Aid for recycling clothing, but has not seen them lately. This company has been under investigation and according to an 
NBC Washington
 article, "Petersen [company owner] is now on the run -- wanted by Interpol -- after the Danish government charged him with charities fraud and tax evasion." Perhaps this is why the bins are now gone. 
The university also has an end of year sale, the, "
Clean Sweep Sale
," in which all of the items left "donated" by students are sold with the, "Proceeds will be used to support programs and services offered through UMaine's Bodwell Center for Service and Volunteerism, including the Black Bear Exchange, Welcome Weekend Day of Service, and the MLK Day of Service meal-packing event."
It looks like overall Maine students and the university itself are doing their fair share of recycling and donating instead of contributing to the 81 pounds per year that most people in the United States throw away. 
-SE-
With students returning to school and the season changing from summer to fall, where does last seasons wardrobe go? 
In today's fast food, fast fashion and new is better "than" repairing the old and used, we as consumers are buying more and wasting more. Americans throws away an average of 81 pounds of clothing every year. This is one of the cycles, making the fashion/apparel industries the second most pollutant industry in the world.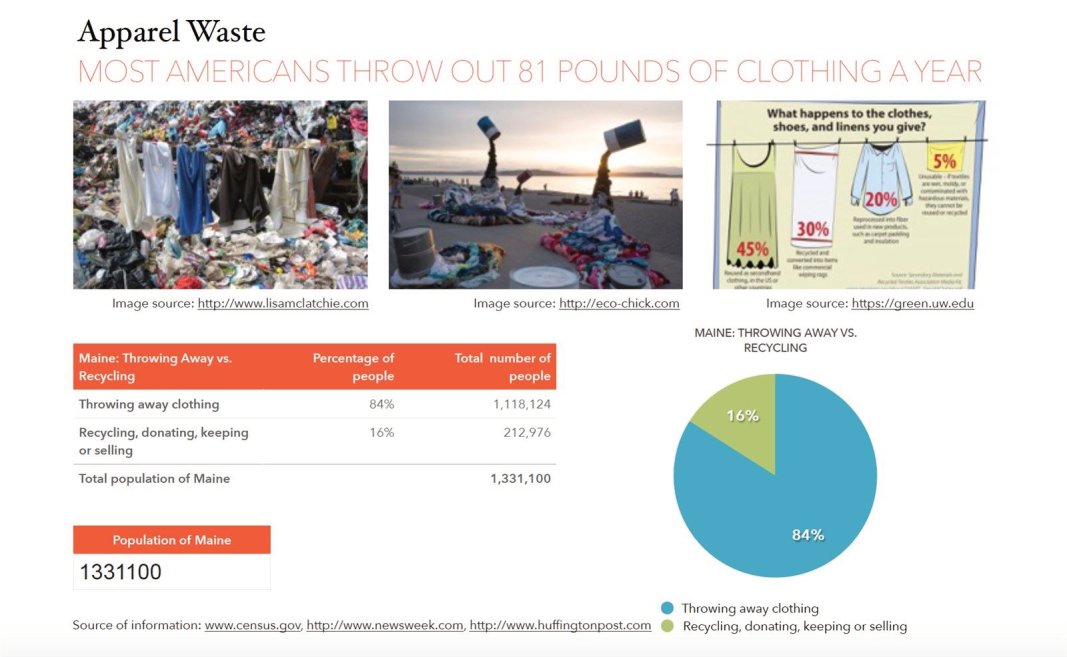 On average 84% of Americans do not recycle their unwanted garments, according to a
Newsweek
article. This means that approximately 252 million people throw away an average adding up to 26 billion pounds of clothing every year, according to a
Huffington Post
article. In Maine alone, the numbers break down to 20 millions pounds!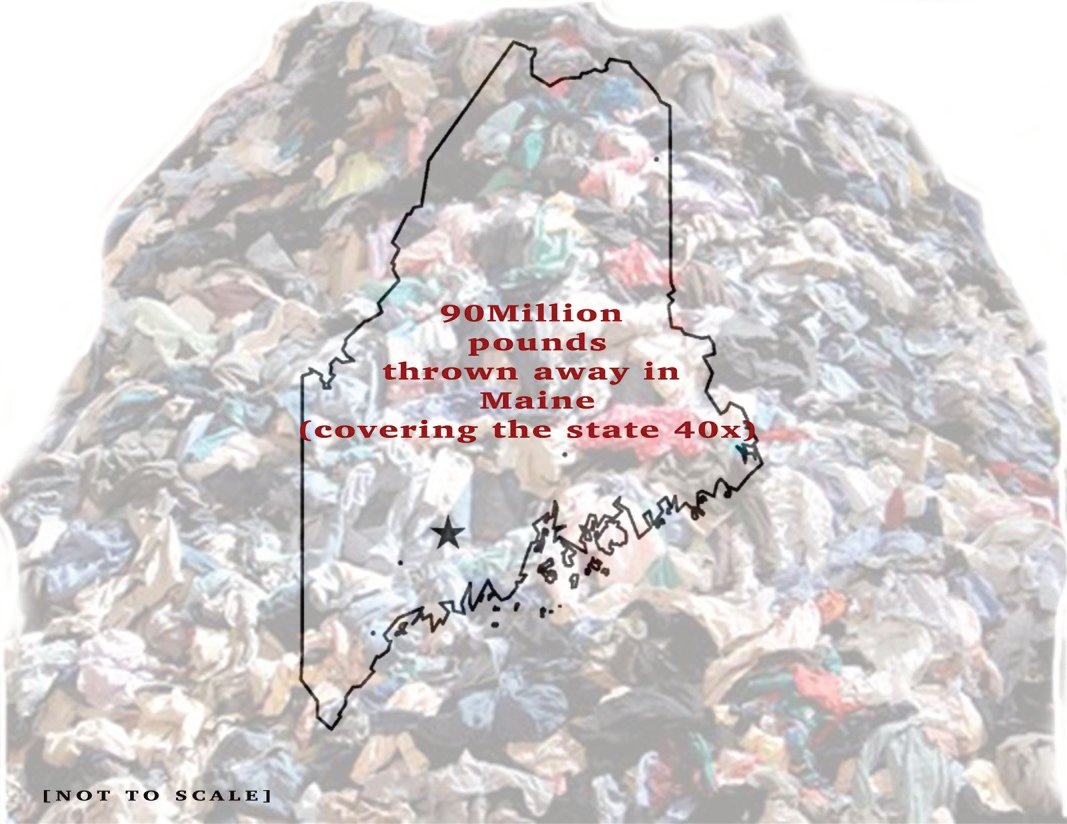 The graphic above shows how much Mainers throw away in clothing each year, can cover the entire state 40 times over. (Image not to scale)
This phenomenon is for the most part the end of the fashion/apparel industry cycle and only one  contributor in making it one of the most pollutant industries. The manufacturing of textiles is a whole other story that will be discussed in a future article.
One solution is to engage more consumers to recycle the unwanted clothing. In Maine, there are independent stores specializing in consignment, which are money making options for consumers to make some cash from their unwanted attire. The
Black Bear Exchange
is a great place to exchange your clothing for some new wares or pick up some needed food, it is located on the Maine campus in Orono.  
The larger well known stores such as Buffalo Exchange, Crossroads Trading and even Wasteland will buy back better quality merchandise to be resold in their store are set in more urban environments.
Maine also has plenty of thrift stores that would be happy to take in your unwanted garments. A lot of these store, such as Salvation Army and Goodwill are the more well known stores as well as local store such as Tree of Life Food Pantry & Turnstyle Thrift Shop that help the community they are in with the donations they receive. 
You may ask, why so many people choose to simply throw their unwanted clothing away? One of the reasons is in the question itself, it is simple and a lot of people are too lazy to donate them. Another reason according to an article on
takepart.com
, states that many people are unsure what can be donated. Basically it comes down to consumers making choice to throw clothing away because it is more convenient than donating or recycling. 
But what if it was easier to recycle, similar to recycling plastic bottles and cans? Most neighborhoods have recycle bins that are put out with the trash to be picked up on trash day, it seems to me that having one specifically for textiles could start to change this habit of waste.  The good news is organizations such as
Savers
have a program Rethink Reuse that is tackling the cause to start minimizing the over 26 billion pounds that ended up in landfills each year. The organization has managed to save 700,000 pounds from ending up in landfills. 
This may seem like a small dent in the 26 billion, but every little bit helps and the more consumers are aware, hopefully this trend will not continue. 
-SE-
The spring/summer season maybe be far far away for the consumer market, but the fashion industry works ahead to present the latest trends, which all of us maybe sporting next year. 
The hustle and bustle of the city is electrifying. My first stop NYFWM (New York Fashion Week - Men's) which is at a new location this season. Dune Studio in the heart of the finical district, which is situated in the lower east side of Manhattan.
Spring/Summer 2018 men's fashion week. The shows are what we call in the industry "presentations," this is when the models for the most part act as human mannequins while the media, photographers, bloggers and fashionista's view the latest collections.
First stop, a fresh coconut water bar, where the handsome tender cracks one open for me. It seems a little bit out of place in the cold hard streets of New York to be drinking a fresh cracked coconut, but what the heck, it will be a cool Instagram post. 
Here comes the fun, what does this years mens collection have in-store for me. As I walk the halls of the studio, the doors of each studio are adorned by the collections name on the large barn style door covered in chalkboard paint.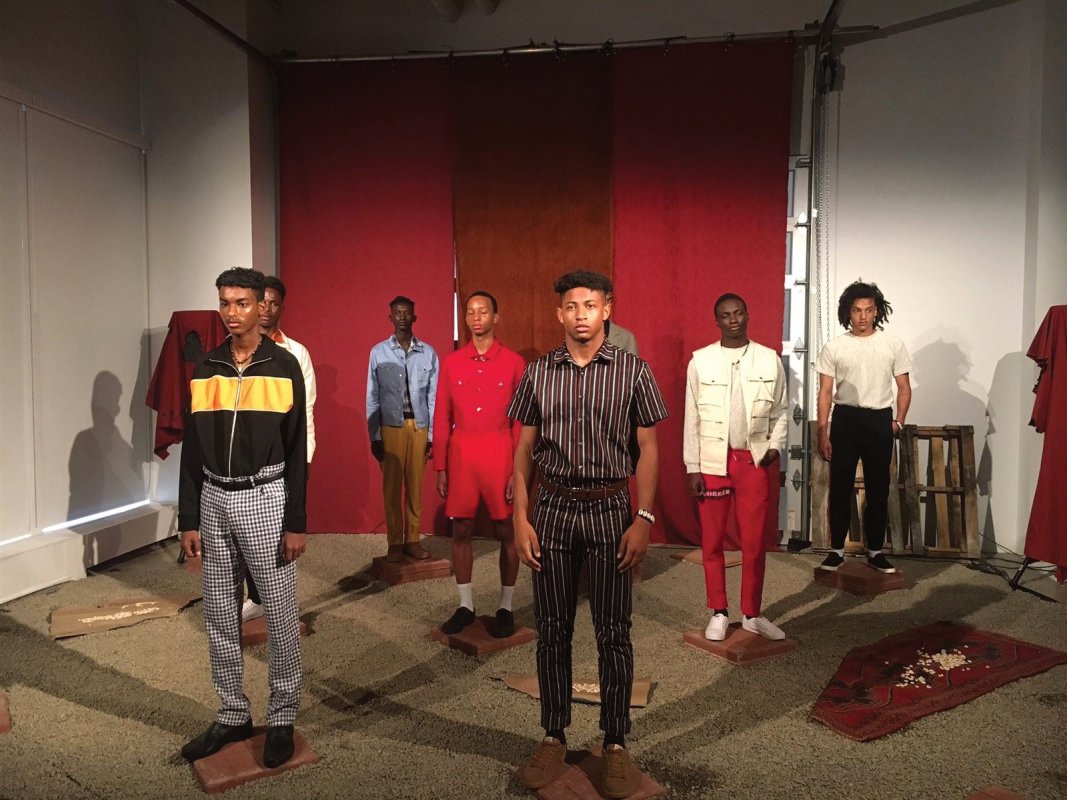 The first collection that stands out to me is
Head Of State+
which showed for the first time in NYC. I liked the collections simplicity in a complex way. Bold color blocking that any artistic man could build a wardrobe from. 
All photos by Stacy Ellen.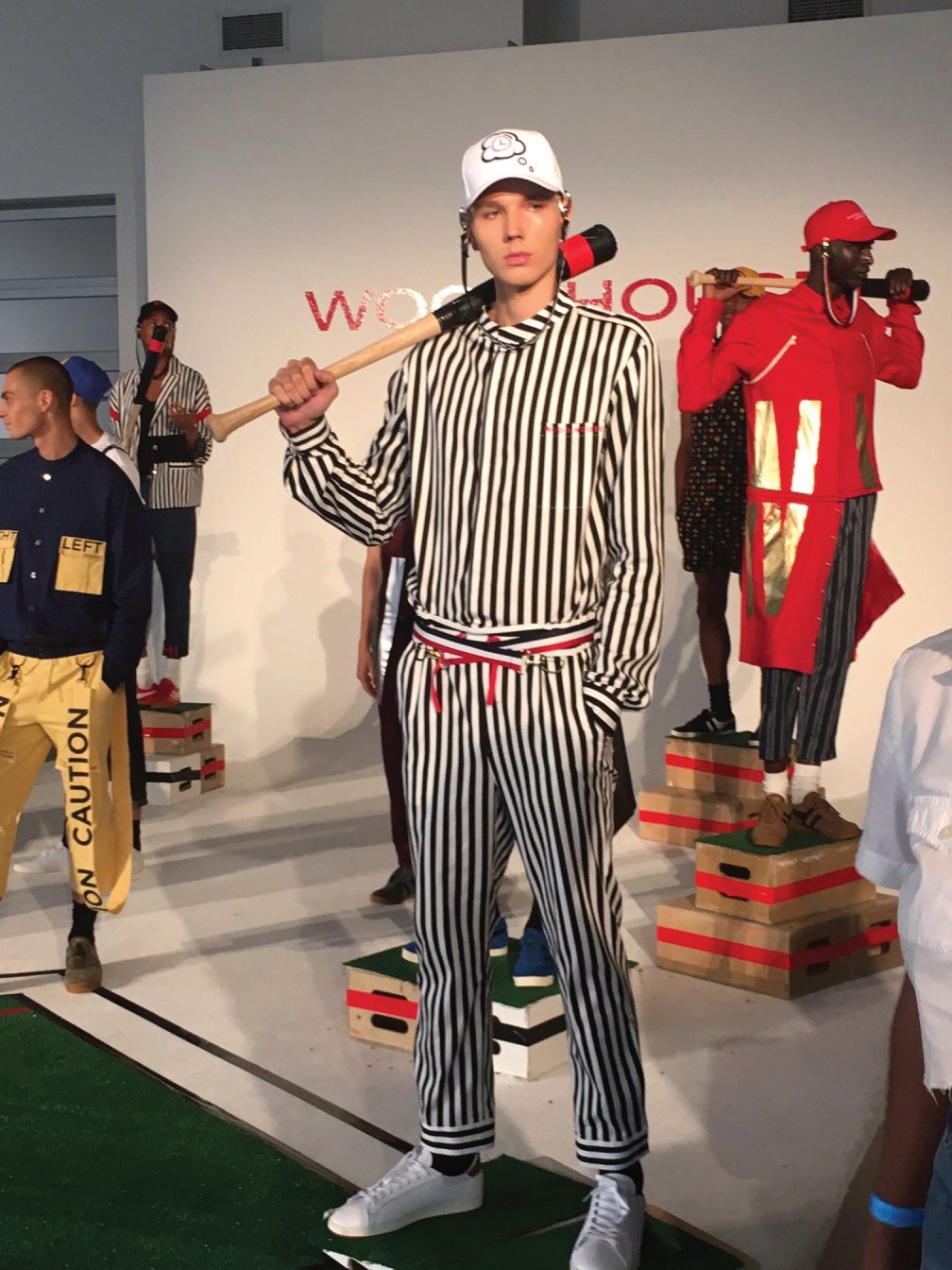 Wood House
stood out the most for being innovative. My first impression was, it looked like old school nautical back in the 80/90s. A fresh revival of sport/leisure wear for men.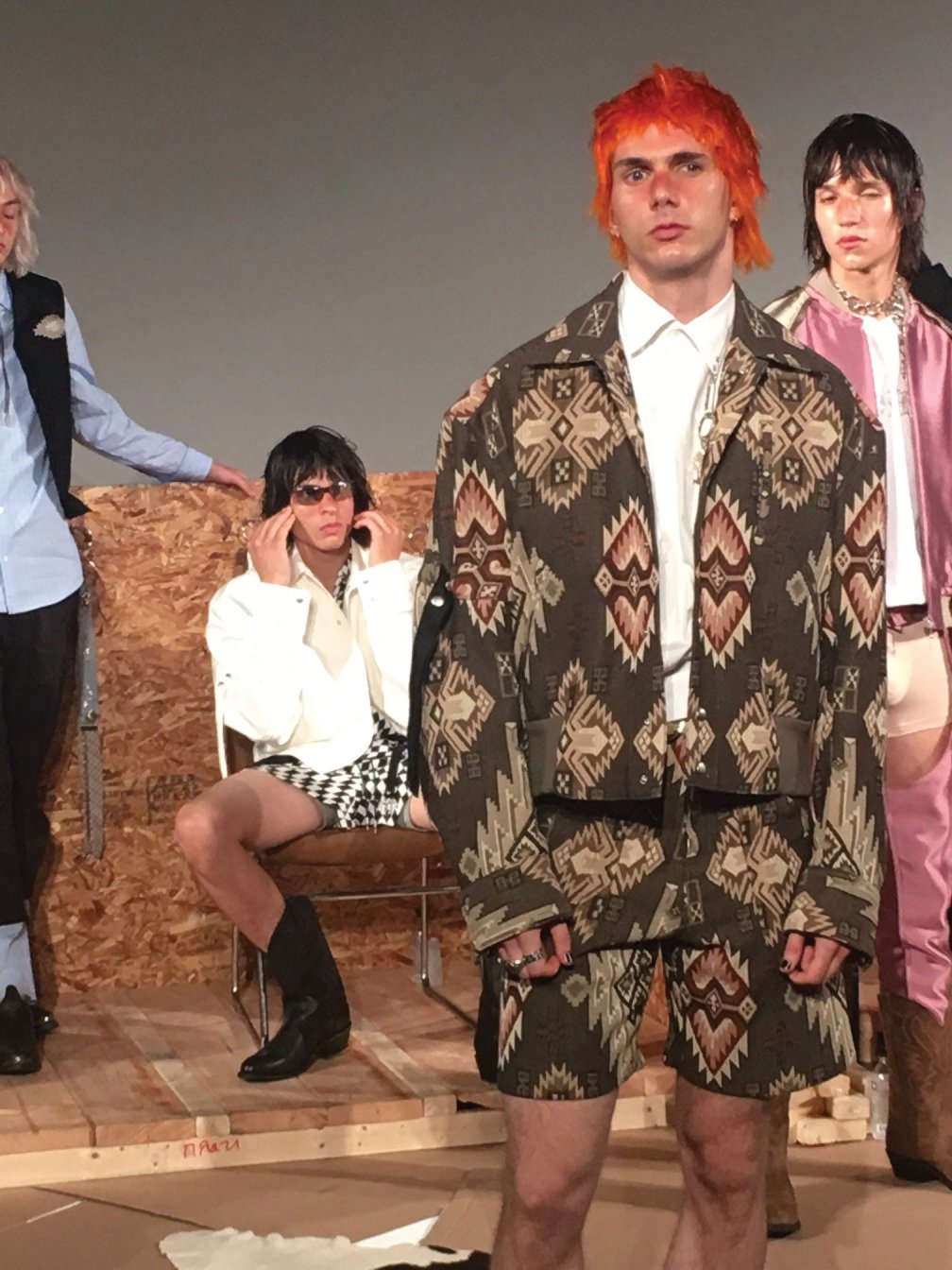 The most unique silhouettes of the season have to be from
Private Policy
. Is it country, is it 70s, is it "Rhinestone Cowboy," rebooted? I don't know and I don't care, the designer went out on a mechanical bull limb and took the 6 second prize! The designer describes the collection as, "Under the turbulent political climate, the American dream seems a bit lost." WWD describes the socially conscious label, "The collection delivers a loud societal message and a call to action, taking on issues such as slave labor and global warming," it goes on to say, "Fun for the eyes and intriguing for the thoughts, a view of America through the foreigners eyes."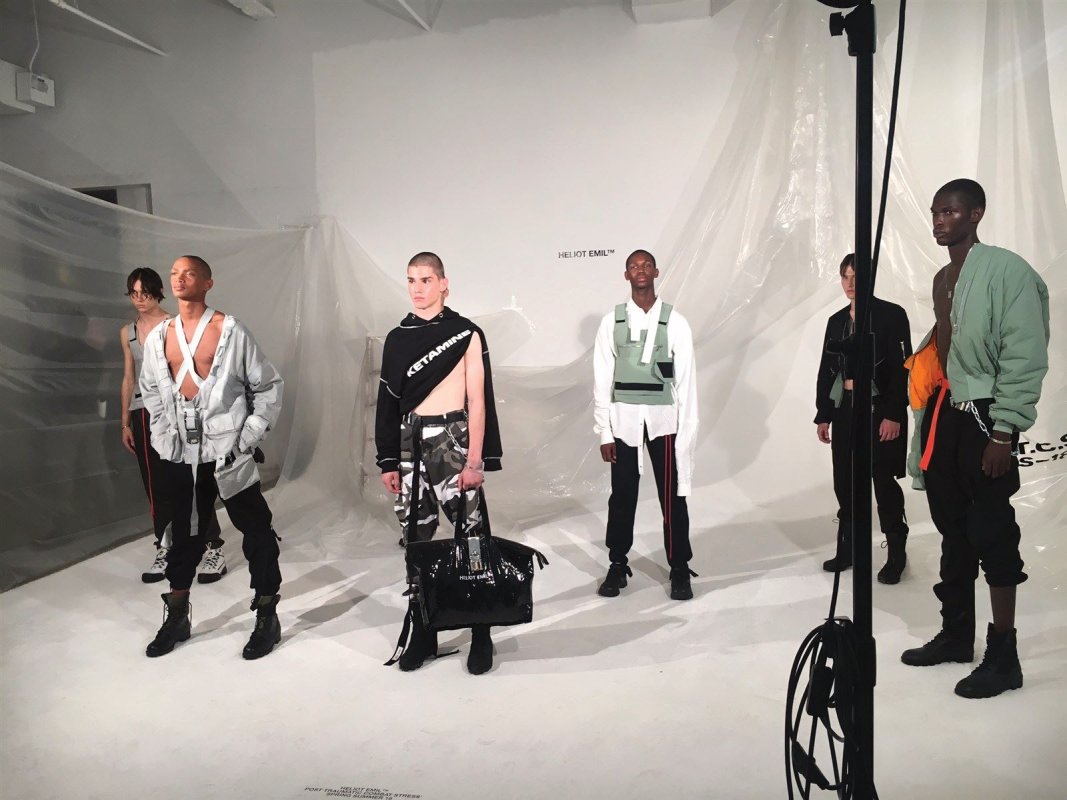 But my favorite collection this SS18 season is
Heliot Emil
also showing for the first time in NYC. The collection is titled "PTCS Post Traumatic Combat Stress," with the industrial military sportswear, is exactly what the world is showing us. This collection manifests the world's atmosphere. Casual, yet useful, yet utilitarian and chic all at the same time. The designer Julius Juul describes the collections as a, "Mixture of formality and discipline of the military with the care free attitude of a lost mind." Powerful!
My overall view on this years collections as a whole, is there seems to be no thread of commonality. I would describe the SS18 men's wear collections as a little manic with no clear line of similarity, but instead very different from one another. 
This I believe is a good thing, because typically menswear have very few variances. There usually are the typical silhouettes, suits, jeans, jackets, tees, etc., But I have noticed in the last few years of attending the newly formed men's fashion week, that these silhouettes are expanding. 
The shows are capped off by the traditional free booze bar, this time though I run into a reality star from Millionaire Matchmaker that is peddling (literally) alcohol infused Popsicles from his old fashion ice cream cart. The music and atmosphere is electric as it has been all day, the setting is the East River overlooking Queens/Brooklyn. What a day.
-SE-
/