Shopping Cart
Your Cart is Empty
There was an error with PayPal
Click here to try again
Thank you for your business!
You should be receiving an order confirmation from Paypal shortly.
Exit Shopping Cart
Fashion Journalist | Wardrobe Stylist | Creative Director
Most people nowadays know how to navigate themselves to the correct recycling bin when finished with their beverage or snack from the vending machine. But what about when purchasing a tee shirt, socks or even flip flops, from such a  machine, where are the
apparel recycling bins
in the line up?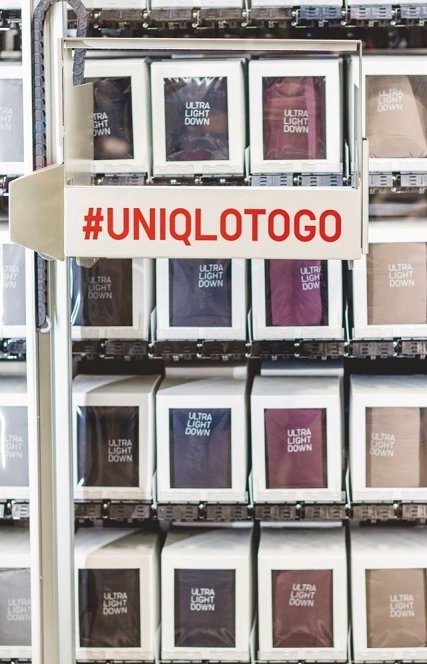 The latest trend in fast fashion, a term coined because of the high volume of low prices clothing that comes in and out of store, in what seems like a blink of an eye, is the apparel vending machines.  
Who What Wear
, highlights some of the pioneers of this new way of selling with companies such as Uniqlo and Havanans cashing in on this trend. Followed by the extra money pocketed by,  "Cutting the middle man may be a savvy route to cost-cutting," describes the
Independent
. 
Hopefully the consumers are also recycling these items instead of contributing to the
81 pounds
of clothing many people in the United States throw away ever year. There are
recycling bins
for every product you can pretty much think up, sometimes all lined up together like little soldiers. But there has yet to be an apparel one amongst the rest. Those bins are usually outside second hand stores and scattered around random street corners. Why are they left alone all by themselves instead of being among the gang of recycle bins for glass, paper, plastic? 
-SE-
Originally posted October 22, 2017
First sight makes a lasting impression. Nonverbal communication makes up 
93% 
of everyday communication, according to Albert Mehrabian. How people size up one another when first meeting, what one chooses as their outfit for the day tells the world who they are. According to the 
Changing Minds organization
, "A simple rule is 'Dress to impress', which means what you should wear can vary greatly with your audience." 
Just think about it like walking around looking at yourself in the mirror all day. The mirror image is what the world sees of you and unfortunately human nature does judge a book by its cover. If this is the way of the world why not step out into it with your best [foot] outfit to show they world who you are? Take pride in your uniqueness and let you're clothing be your calling card to the world of how you want people to see you.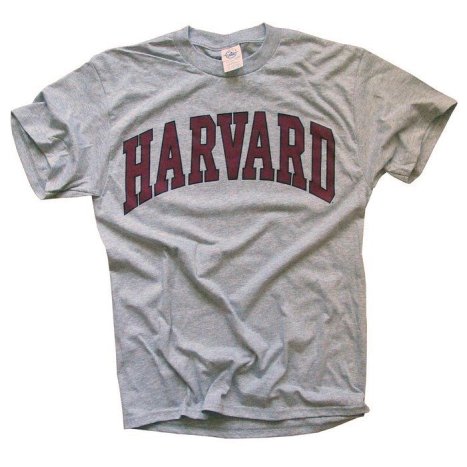 The tee shirts people wear and what is printed on them tell a story about just like a billboard does. In a 
Complex Magazine
 article, Jon Moy breaks down tee shirts into 26 different categories. Moy describes category, "#20 athletictecht -  Personally, I don't know you if you wear super technical T-shirts like this. Under Armour? What the fuck?" As well as category,  "#21 colleget You are a character in a romantic comedy who has reluctantly returned to their home town after years of living in New York City," which I can truly relate to at this point in my life. 
Preserve History on a students tee shirt this morning tells me that he is interested in history from not even speaking to him. The fraternity someone's in the band that they like, where they've traveled and what their favorite sports team is. All of these tee shirt billboards tell a story about a person without even knowing them, so make sure you choose the correct one. 
-SE-
The spring/summer season maybe be far far away for the consumer market, but the fashion industry works ahead to present the latest trends, which all of us maybe sporting next year. 
The hustle and bustle of the city is electrifying. My first stop NYFWM (New York Fashion Week - Men's) which is at a new location this season. Dune Studio in the heart of the finical district, which is situated in the lower east side of Manhattan.
Spring/Summer 2018 men's fashion week. The shows are what we call in the industry "presentations," this is when the models for the most part act as human mannequins while the media, photographers, bloggers and fashionista's view the latest collections.
First stop, a fresh coconut water bar, where the handsome tender cracks one open for me. It seems a little bit out of place in the cold hard streets of New York to be drinking a fresh cracked coconut, but what the heck, it will be a cool Instagram post. 
Here comes the fun, what does this years mens collection have in-store for me. As I walk the halls of the studio, the doors of each studio are adorned by the collections name on the large barn style door covered in chalkboard paint.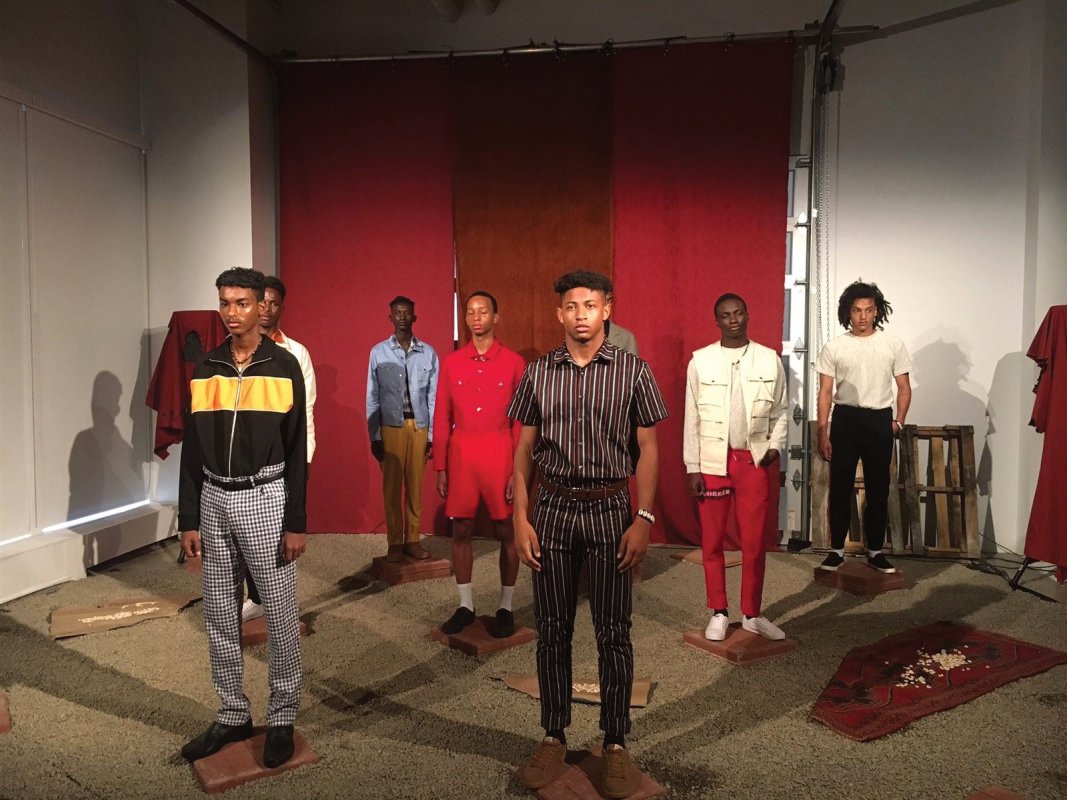 The first collection that stands out to me is
Head Of State+
which showed for the first time in NYC. I liked the collections simplicity in a complex way. Bold color blocking that any artistic man could build a wardrobe from. 
All photos by Stacy Ellen.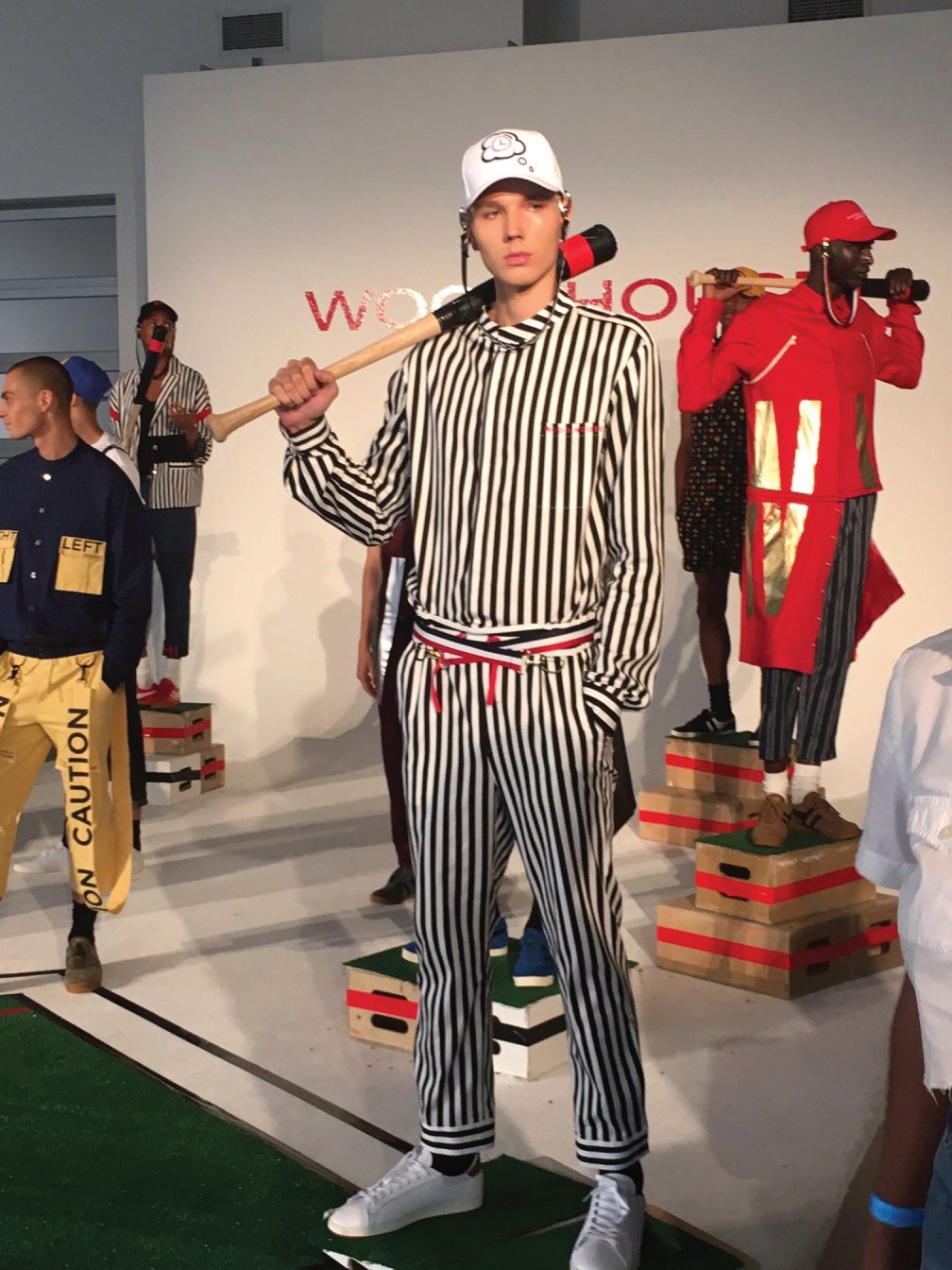 Wood House
stood out the most for being innovative. My first impression was, it looked like old school nautical back in the 80/90s. A fresh revival of sport/leisure wear for men.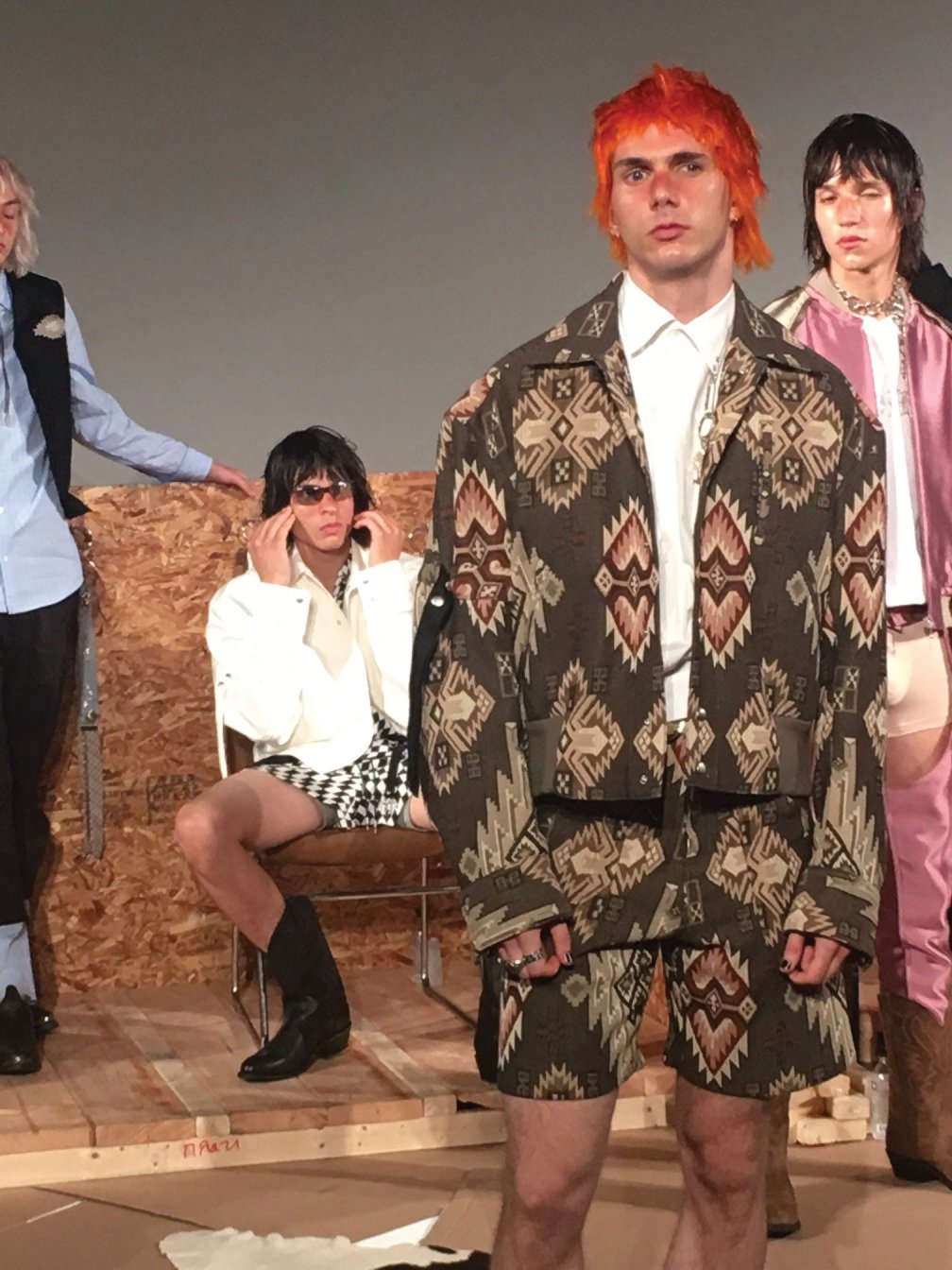 The most unique silhouettes of the season have to be from
Private Policy
. Is it country, is it 70s, is it "Rhinestone Cowboy," rebooted? I don't know and I don't care, the designer went out on a mechanical bull limb and took the 6 second prize! The designer describes the collection as, "Under the turbulent political climate, the American dream seems a bit lost." WWD describes the socially conscious label, "The collection delivers a loud societal message and a call to action, taking on issues such as slave labor and global warming," it goes on to say, "Fun for the eyes and intriguing for the thoughts, a view of America through the foreigners eyes."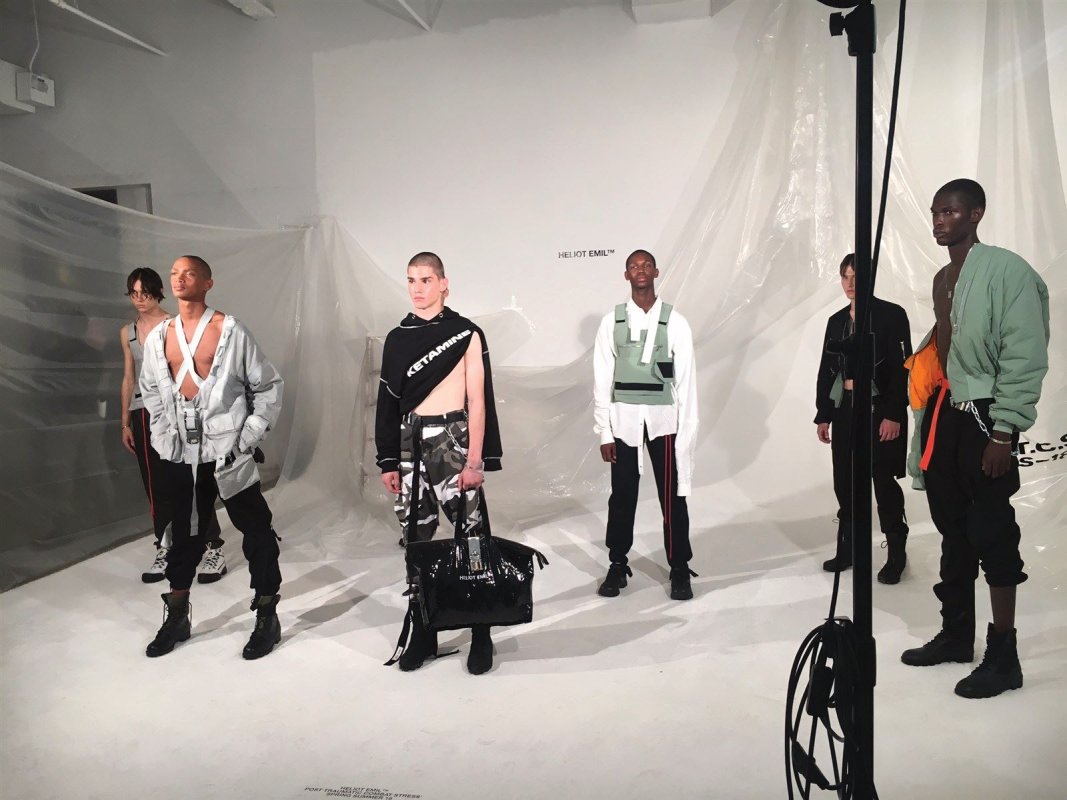 But my favorite collection this SS18 season is
Heliot Emil
also showing for the first time in NYC. The collection is titled "PTCS Post Traumatic Combat Stress," with the industrial military sportswear, is exactly what the world is showing us. This collection manifests the world's atmosphere. Casual, yet useful, yet utilitarian and chic all at the same time. The designer Julius Juul describes the collections as a, "Mixture of formality and discipline of the military with the care free attitude of a lost mind." Powerful!
My overall view on this years collections as a whole, is there seems to be no thread of commonality. I would describe the SS18 men's wear collections as a little manic with no clear line of similarity, but instead very different from one another. 
This I believe is a good thing, because typically menswear have very few variances. There usually are the typical silhouettes, suits, jeans, jackets, tees, etc., But I have noticed in the last few years of attending the newly formed men's fashion week, that these silhouettes are expanding. 
The shows are capped off by the traditional free booze bar, this time though I run into a reality star from Millionaire Matchmaker that is peddling (literally) alcohol infused Popsicles from his old fashion ice cream cart. The music and atmosphere is electric as it has been all day, the setting is the East River overlooking Queens/Brooklyn. What a day.
-SE-
/