Shopping Cart
Your Cart is Empty
There was an error with PayPal
Click here to try again
Thank you for your business!
You should be receiving an order confirmation from Paypal shortly.
Exit Shopping Cart
Fashion Journalist | Wardrobe Stylist | Creative Director
| | |
| --- | --- |
| Posted on September 13, 2017 at 2:33 PM | |
With students returning to school and the season changing from summer to fall, where does last seasons wardrobe go? 
In today's fast food, fast fashion and new is better "than" repairing the old and used, we as consumers are buying more and wasting more. Americans throws away an average of 81 pounds of clothing every year. This is one of the cycles, making the fashion/apparel industries the second most pollutant industry in the world.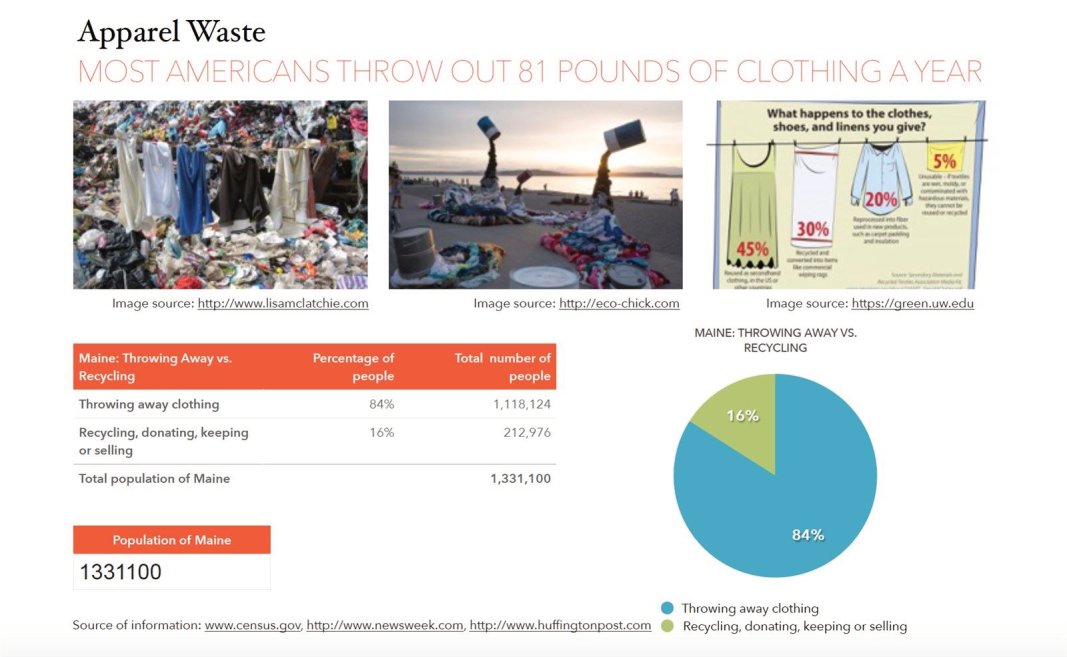 On average 84% of Americans do not recycle their unwanted garments, according to a
Newsweek
article. This means that approximately 252 million people throw away an average adding up to 26 billion pounds of clothing every year, according to a
Huffington Post
article. In Maine alone, the numbers break down to 20 millions pounds!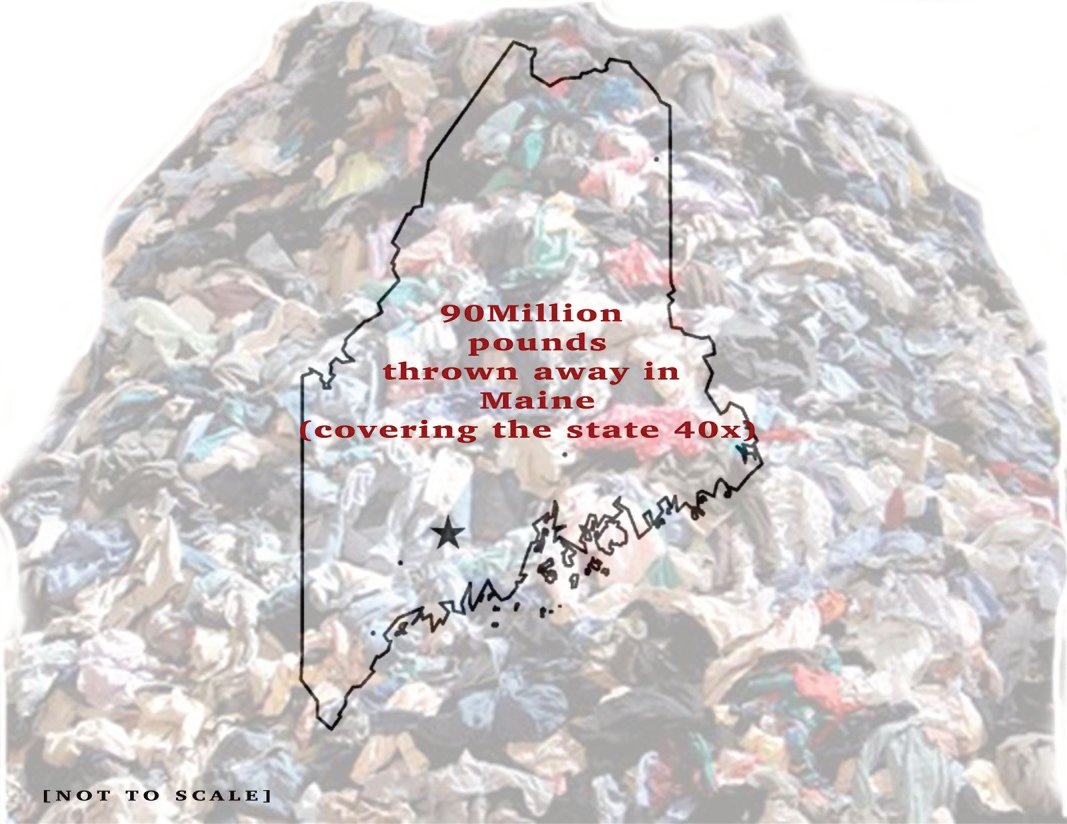 The graphic above shows how much Mainers throw away in clothing each year, can cover the entire state 40 times over. (Image not to scale)




This phenomenon is for the most part the end of the fashion/apparel industry cycle and only one  contributor in making it one of the most pollutant industries. The manufacturing of textiles is a whole other story that will be discussed in a future article.




One solution is to engage more consumers to recycle the unwanted clothing. In Maine, there are independent stores specializing in consignment, which are money making options for consumers to make some cash from their unwanted attire. The

Black Bear Exchange

is a great place to exchange your clothing for some new wares or pick up some needed food, it is located on the Maine campus in Orono.  




The larger well known stores such as Buffalo Exchange, Crossroads Trading and even Wasteland will buy back better quality merchandise to be resold in their store are set in more urban environments.




Maine also has plenty of thrift stores that would be happy to take in your unwanted garments. A lot of these store, such as Salvation Army and Goodwill are the more well known stores as well as local store such as Tree of Life Food Pantry & Turnstyle Thrift Shop that help the community they are in with the donations they receive. 




You may ask, why so many people choose to simply throw their unwanted clothing away? One of the reasons is in the question itself, it is simple and a lot of people are too lazy to donate them. Another reason according to an article on

takepart.com

, states that many people are unsure what can be donated. Basically it comes down to consumers making choice to throw clothing away because it is more convenient than donating or recycling. 




But what if it was easier to recycle, similar to recycling plastic bottles and cans? Most neighborhoods have recycle bins that are put out with the trash to be picked up on trash day, it seems to me that having one specifically for textiles could start to change this habit of waste.  The good news is organizations such as

Savers

have a program Rethink Reuse that is tackling the cause to start minimizing the over 26 billion pounds that ended up in landfills each year. The organization has managed to save 700,000 pounds from ending up in landfills. 




This may seem like a small dent in the 26 billion, but every little bit helps and the more consumers are aware, hopefully this trend will not continue. 




-SE-

Categories: eco-friendly, environmental fashion, fashion, fast fashion, journalism, journey, stylist, sustainable

0

/